Please enter search criteria
Textbook Information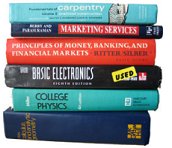 Each semester course materials will be listed in the Order Textbooks section by course number and section. Orders must be prepaid by Credit Card (Visa, Mastercard, or Discover), or Student Accounts (Financial Aid). Along with a course's textbooks, required materials such as calculators, culinary uniforms and cutlery, and biology items, are now available online and appear with the appropriate course's textbooks on the Ordering Textbooks page. Orders can be picked up in store, or sent via Fedex

NOTE: Textbook orders with split tenders (part credit card, part Student Accounts, part cash, etc.) can only be processed in store only.

Credit Card Orders

Course Materials will be available for online ordering by Credit Card on the same day registration begins, the order acts as a reservation for the textbooks, and the order will be filled as soon as the textbooks arrive at the store leading up to the beginning of the semester. When the order is filled, an email notification will be sent, alerting the customer that it is ready for pick up or Fedex delivery.

Student Accounts (Financial Aid) Orders

Student Accounts (Financial Aid) orders are available the first day Student Accounts open, and will be filled within 48 hours after they are placed. Pick up your books at the College Store, or the Student Activity forum during Rush, or have them shipped via FedEx. See the Order Textbooks page for more information on when the current semester's Student Accounts open.

PURCHASING TEXTBOOKS

Textbooks may usually be purchased in-store approximately 1 1/2 months prior to the start of each semester, except orders using Student Accounts Bookstore Credit, which may be purchased online and in-store beginning two weeks prior to the first day of classes for Fall and Spring semesters. Student Accounts Bookstore Credit will begin for the Summer semester two weeks before classes begin.

Please Bring Your Course Schedule

The Bookstore staff will be happy to locate your books for you. If you forget your schedule, the Registrar's Office (Elston, Rm. 215) can print one for you. An SCCC Student Photo ID card is not required for non-Student Accounts textbook purchases, except purchases paid by check.

Student Accounts (Financial Aid) Bookstore Credit

Eligible students may have Student Accounts (Financial Aid) Bookstore Credit at the College Store. This store credit is activated 2 weeks before the first day of each semester. The Student Accounts credit is available for eligible students only for the first four weeks of the Fall and Spring semesters and the first week of the Summer semester.

Each time you charge something to your Student Account, you will receive a detailed receipt including your current balance. KEEP ALL RECEIPTS. You will need them for any exchanges or returns. When using your Student Account to purchase textbooks and materials, you must present a valid SCCC Student Photo ID, the card is scanned at the register to access your account balance.

eBooks

eBooks are now available through The College Store. eBooks are convenient, less expensive than print books, and delivered right to your desktop. Features and capabilities include; Printing , Note Taking, Highlighting, Searching, Underlining, and Read-Out Loud. Minimum Requirements; Windows 98 SE, XP, Vista, Windows 7 or 8, or MacOS 10.2.9 or above, High-Speed Internet connection, and FREE reader software (available online).

How eBooks work
Purchase the eBook card through the bookstore cashier just as you would purchase a printed textbook. Purchasing an eBook card authorizes the card, but does not activate it. When you're ready to read your eBook, go to the computer where you'll use it.

Log in or register at http://www.DigitalTextbooks.com/download, and enter the card and receipt numbers.

Your eBook is now activated and cannot be returned. Follow the easy on-screen prompts to download your eBook. You will need the latest version of the free reader software to read your eBook. When you log in, you will be given the information to find the necessary software.

Used Textbooks

We obtain as many used books as possible. used books will save you about 25% of the new book price. When purchasing used books, you may not have the online access cards (see below) necessary for any web-enhanced materials needed for the course.
Textbook Rentals - Please Click Here for information regarding Textbook Rentals.

Online Access Cards

Textbooks often come with Online Access Cards packaged with the textbook. These are supplemental materials that use online content that can only be accessed using the log in information on the card. Be careful not to lose or throw these away! They are difficult to replace and are often very expensive.

Course Materials

The College Store also carries most course materials such as art supplies, music supplies and all culinary uniforms and dining room uniforms, as well as knives and pastry supplies. Student Account Bookstore Credit may be used to purchase any materials that are required for a course. The College Store now has course materials available online for classes that have requirements for them, and are listed along with that class textbooks on the Ordering Textbooks page.

Online Courses

The College Store sells all required textbooks and materials for online courses. Purchase them the same as regular classes.